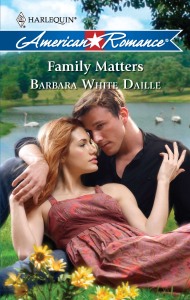 Today, I'm doing a reading for a Harlequin American Romance (TM) hero. Matt Lawrence takes a leading role in Barbara White Daille's sweet, contemporary romance Family Matters. I really enjoyed getting to know Matt and can't wait to read his story. I think someone is leading him a merry chase.
From Barbara's bio:
Originally from the East Coast, award-winning author Barbara White Daille now lives with her husband in the warm, sunny Southwest, where they love the dry heat and have taken up square dancing.
From the time she was a toddler, Barbara found herself fascinated by those things her mom called "books." Once she learned the words between the covers held the magic of storytelling, she wanted to see her words in print so she could weave that spell for others.
Now let's visit with Matt to find out what he thinks of his reading. Continue reading "Character Reading: Matt Lawrence"